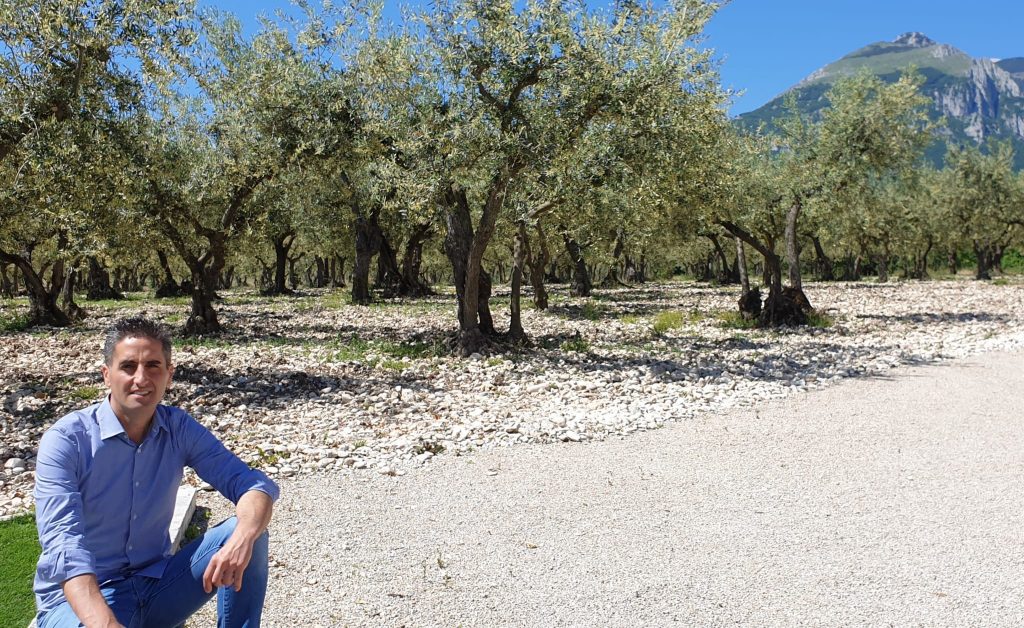 Brand New Olive Oils From Abruzzo
Olive oil is an almost endless subject and one that we never properly engaged with until we started importing Giacomo Santoleri's Intosso oil three years ago. It really changed the way we use olive oil at home and it's now hard to imagine cooking and eating without it. Giacomo's tiny harvest of olives are pressed just down the road at the Trappeto di Caprafico mill where Tommaso Masciantonio's family has been growing olives since 1948. Last summer we spent the day with the two friends and now, finally, Tommaso's oil has arrived. 
Like Giacomo, Tommaso grows the Intosso olive, a small tree with a low yield that is perfectly adapted to the Maiella foothills but Tommaso also grows 2 other local varieties, Crognalegno and Gentile di Chieti. An incredible 42% of the world's olive varieties are Italian with over 500 cultivars recognised and in recent years there has been a reassessment of their importance. Locally adapted to climate and topography, these landrace varieties tend to be more naturally resistant to insects, drought or disease and each of Tommaso's 5000 trees has been chosen for its cultural as well as organoleptic importance.
Throughout October and November the family uses small, handheld shakers that go through the olive branches in a gentle harvesting process that minimises damage to the olives and gives pickers the chance to assess each individual tree for ripeness; even though the oil yield is better when the olives are ripe, for quality they should be picked at the beginning of maturation when the olives are turning from green to purple, levels of acidity are very low and levels of antioxidants and polyphenols very high.
Olives picked in the morning are pressed by lunchtime using the modern process of centrifugal decanting. Until the last decade oil has been extracted in the same way for over 2000 years, crushing the olives with millstones and spreading the resulting paste over fibre mats that were piled up, one on top of the other and pressed. This method results in the loss of many perfume phenols and results in a lighter, gentle oil which is more prone to impurities but because of traditional thinking and the romance of these old presses, the changeover to new machinery across the Mediterranean has been slow.
The modern method sees the olives mashed by stainless steel rollers then slowly mixed for up to 30 minutes to allow small drops of oil to combine into bigger ones and thus be more easily separated. The oil is then extracted through a centrifuge and a decanter separates oil, water, and solids. The whole process is enclosed so that there is no risk of oxidation. Today, the very best olive oils are extracted this way.
Once decanted Tommaso's oil is filtered (the modern trend for unfiltered oil is needless as the particles that get filtered have no flavour. They can, however, result in the oil turning rancid more quickly so are best removed but there is still an idea that unfiltered is better) and then stored in temperature controlled stainless steel tanks filled with inert gas to keep all the flavour molecules. Unusually his oil is only bottled as each order comes in.
Both Giacomo and Tommaso are tied by their energy and enthusiasm for Caprafico and its landrace olive trees so it's a real treat to be able to offer 3 different oils from both these fabulous estates; the 100% Intosso from Giacomo Santoleri and now also two of Tommaso's oils.
Crognale - 100% Crognalegno olive. Full on flavours of cut grass and artichoke. Hints of almond. Good mix of bitter and spice and very fruity. We don't normally talk about awards but in February 2023 this oil won the Sol d'Oro in the 'Fruttato Intenso' category at this international award ceremony based in Verona. The 2022 season, which saw early autumn rains around Caprafico, suited the Crognalegno trees perfectly giving their oil a really long finish.
Trappeto di Caprafico blend - Intosso and Gentile di Chieti olives. A mix of apple/sweet almond flavours. More subtle than Crognale but with its own particular, medium fruity characteristics. A very good all-rounder and excellent as a kitchen staple.