Preparation: 45mins   Cooking: 45mins Feeds 8/10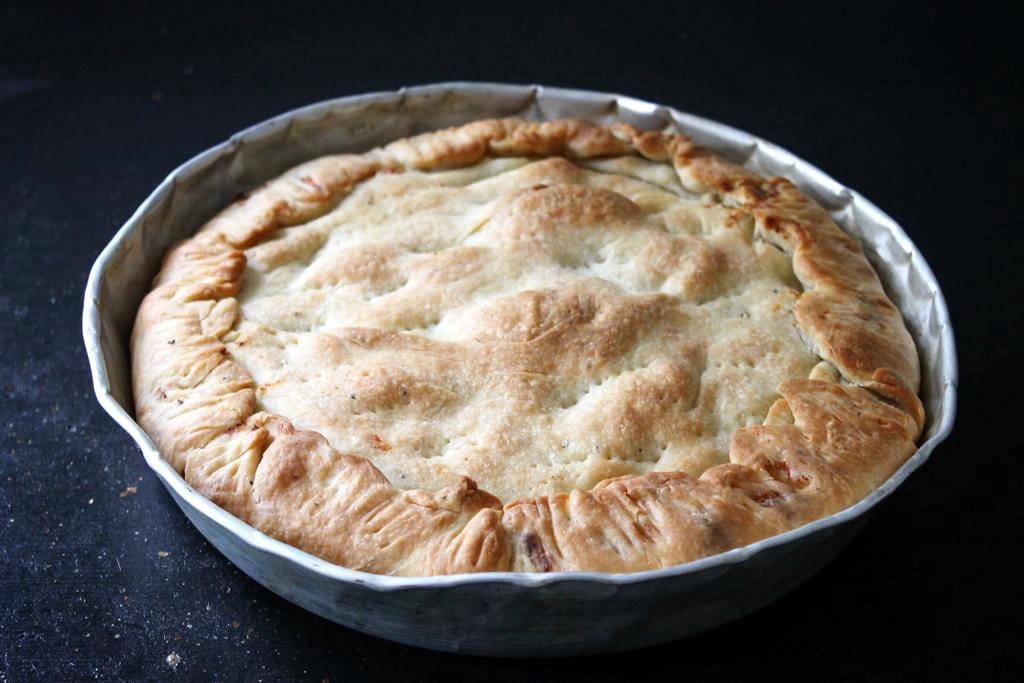 Freshly made Pizza Chiena, or pizza pie. Every family has a special recipe
Dough Ingredients: 300g "00" flour
140g water
2 whole organic eggs
1/2 tsp sea salt
1/2 tsp freshly ground black pepper
Pizza Chiena is Neapolitan dialect for filled pizza (or pie), in Italian. Every family has their own version and this is mine. Filled with a variety of cheeses, salumi, eggs and ricotta then baked in a bread crust it's a great way to use up leftovers of salami or pancetta that you might have in the fridge after Christmas. It's totally delicious and reminds me of the days when I was a kid and played football and on match day my parents used to pack me a few slices of pizza chiena for after the game. You can serve it as an antipasto or as part of an aperitivo to snack on whilst sipping negronis.

Pizza Chiena can be prepared well in advance - in fact it tastes even better the day after it has been made – and should be served at room temperature.
To make the dough put all the ingredients in a bowl and mix well till you have a lovely soft dough. Cover with a tea towel and leave to sit for at least 30 minutes.

Meanwhile in another bowl mix the ricotta the salt and pepper with the eggs stir well and then add the diced gambetti or ends of salumi. Next add the grated Pecorino and Parmesan. Stir once again to ensure all is well combined.

After the 30 minutes have passed divide the dough in two parts, one part weighing 320g the other 200g. The larger part goes at the bottom of the pie, the smaller will be the lid

Next oil the bottom of a pie dish or round cake tray about 24cm wide. Be generous with the oil as this will prevent the dough from sticking. Now wet your worktop with more oil and roll out the 320g of dough making sure you have a round shape. Line the pie dish with the dough and fill with the ricotta and salumi mix making sure you spread this over the whole surface.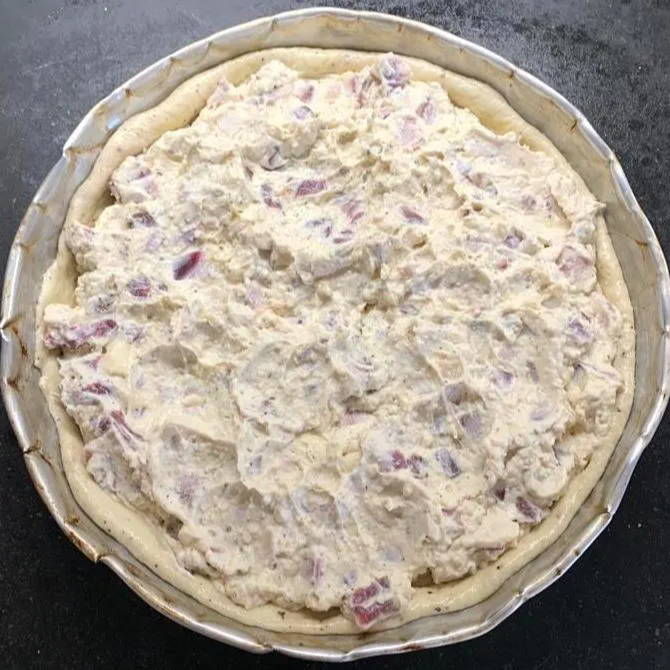 Open pie with filling added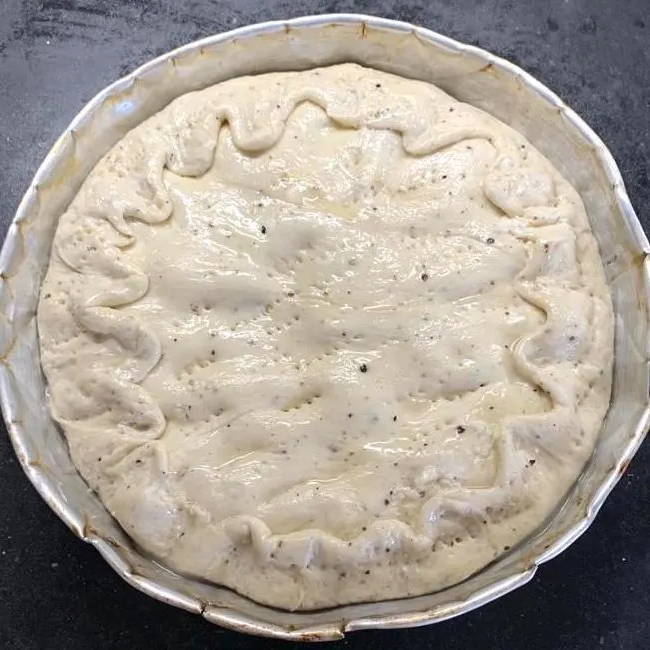 Close by overlapping the bottom dough and sealing with fingers
Next roll out the 200g of remaining dough the same way as you did before on an oiled worktop making sure you have another circle.

To close the pie, overlap the sides of the bottom dough towards the top dough and seal it with your fingers as you go all around. Once you finish this step, make a few holes all around the top of the pie using a fork. This will stop the crust rising too much during baking.
Bake for 45 minutes at 180C or until the pie is nicely brown all over and the beautiful smell fills your kitchen. Once cooked let it rest till cool. If you can resist wait till next day, it'll be worth the wait!